Artists
BREAKFAST Kinetic Art Studio
Dallas Gallery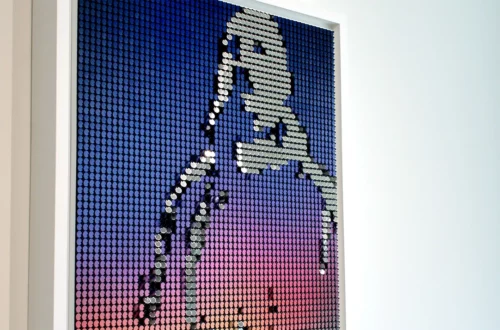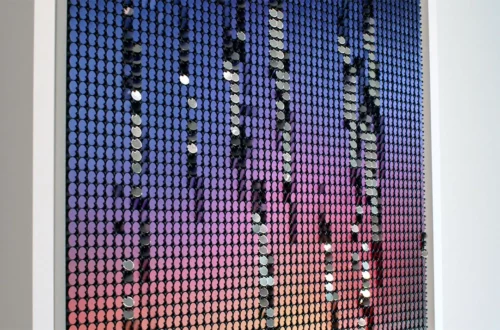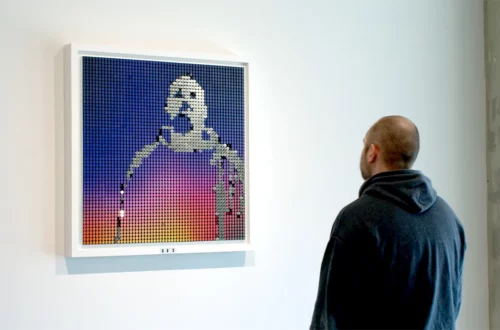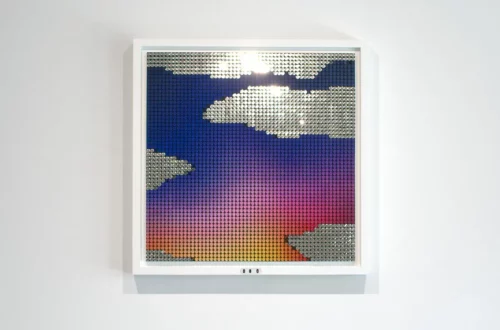 World Skies, Purple Sunset
Kinetic Artwork: Flip-Discs, software, camera, internal computer
This a Limited Edition Series of 8 in each of the following sizes:
55"w x 21"h
38" x 38"
38" x 55" *Vertical or Horizontal
72" x 38" *Vertical or Horizontal
54.5" x 54.5"
Cerulean Gallery Dallas has a 38" x 38" on permanent exhibition for viewing.
"World Skies, Purple Sunset" is an interactive kinetic artwork and real-time weather data visualization. This artwork is connected to a satellite and allows a collector to select any city in the world to visualize cloud cover, rainfall, and wind in real-time.  The location of weather can be changed at any time through an enclosed password protected IP address.  When someone is close and interacts with the artwork, a depth sensor sees them and replaces the visualization with a reflection of themselves. The contrast of their image changes based on the current cloud cover – similar to how the sun and clouds affect your appearance when outside.
The dime-size electromagnet discs flip back-and-forth.  One side of the discs is an ombre "sunset" of purples, oranges, and reds, and the opposite side of the discs are mirrors.
There are a variety of features that you can adjust with this artwork.  You can select the times of day that it automatically operates, such as 7am – 10pm and set it to sleep mode at night.  You can control how often the weather moves across the piece.  For example, you can set it to show the real-time weather in constant motion or have it move once an hour for 30 seconds (kind of like a cuckoo clock).
Longevity of these kinetic artworks is extremely important to BREAKFAST.  This team of techy artists rigorously test their designs to ensure they will last for generations.
Museum-grade plexiglass encasing is available as an option to add-on, but not necessary.  The plexiglass encasing is a slim, low-profile design so it does not take away from the visual aesthetics of the artwork.  This add-on might appeal to clients with small children or for placement in public spaces.
BREAKFAST is a Brooklyn-based robotic kinetic artist group led by Andrew Zolty and Mattias Gunneras. The studio, started in 2009, is focused on creating forward-looking software and hardware driven artworks that connect viewers to far-away places through interactive experiences, and tell powerful stories about our rapidly-changing world. The studio's practice employs a unique blend of computer science, mechanical engineering, and playful, emotionally-striking aesthetics to invite audiences to reflect on the relationship between the physical, the digital, the global, and the intimate—as well as the evolving relationships between human bodies and technological innovation in the Information Age.